Well today started off with a personal achievement - finally beating the Plains Maha Ruknee challenge! I am now "very knowledgeable about the earth," on the road to Rangery goodness, so hopefully in about 60 more Goss lessons I'll be ready at last!

I like how grumpy the head looks. Like it's saying "hmmmph!" :D
I decided to tag along on the latest outing to Thaumaturge's Lair (still have no idea who Thaumaturge is or why he needs a lair, but dat's another story!) Anyways, in retrospect this might not have been such a good idea for some of us.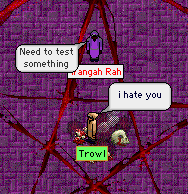 When an evil Mystic says he needs to test something while standing in a creepy pentagram thingy... RUN!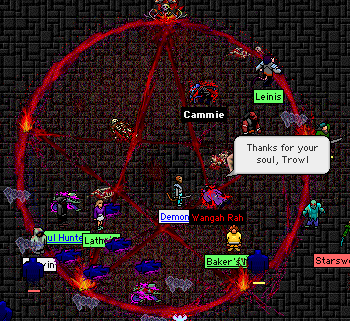 Tastes great, less filling.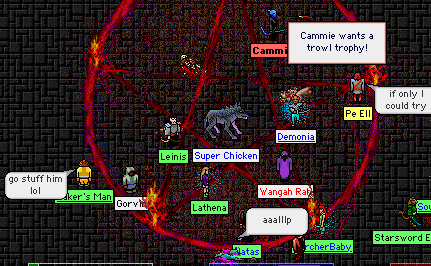 This would have served the dual purpose of a cool trophy AND sewing Trowl's mouth shut! (I kid, I kid.)
I guess I'm evil now. Darn!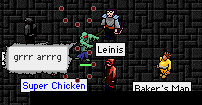 Grr arrg brains, etc... Zombie!Cammie terrifies the masses (until SC and Leinis take her down with two swings). ;p
Well apparently all the zombing and killing and re-zombing served a purpose to those who know about such things, so I'm glad I could help them get into the lair in this... interesting way! I'm not entirely sure where my soul ended up, but they always say it's in the last place you look...
Til next time,
~ Cammie
Cammie's Story ~ Fun with Souls!
Each week Daimoth hosts an Open Hunt to the Slate or Pitch Caves. I usually don't go due to
complete lack of skillz
very important pressing engagements *cough*, but I couldn't pass up a trip to the ever-mysterious-and-challenging Book Two!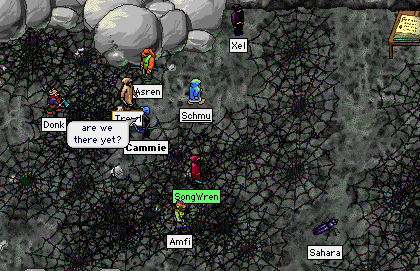 I think it took longer to cross these webs in front of the book than it did to get to the book itself...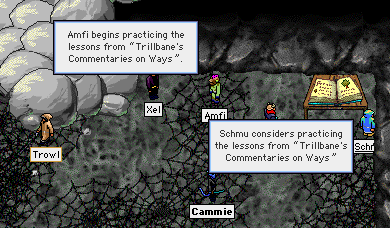 But at last we made it. I am not a pathfinder myself (I still get lost in town) but I was there to sketch and report the EPIC achievement!
Next, the Mystic Xel (who made the trip possible by teleporting us) wanted to study from a mysticy-type book hidden deep... somewhere! (okie, I'm a lil fuzzy on the details. 'swhy I'm not a Mystic!) Anyways, seemed the least we could do for the guy! So off we went to Places Unknown.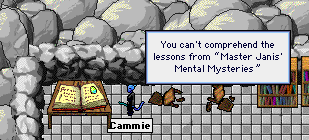 But... but... i iz smart! I IZ! *kicks the dumb book* There, that'll show ya!
This trip went off without a hitch and felt truly like an EPIC adventure. Tanks to Daimoth, Xel, all the healers and everyone who made this experience possible! Shame the timing coincided with the hubby's travels, as he had just finished Book One, but at least now we know it can be done!
There will never be anything funnier than someone popping an explodey bubble on Trowl. EVER. :D :D
Til next time,
~ Cammie
Cammie's Story ~ Open Hunt Scrapbook, part two
Here are some memorable sketches I collected from recent Open hunts and MAP hunts. Enjoy!
Sure, why not?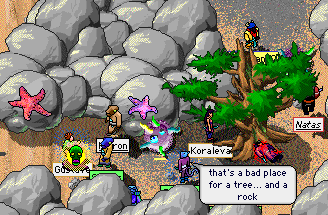 Noth needs to hire better landscapers!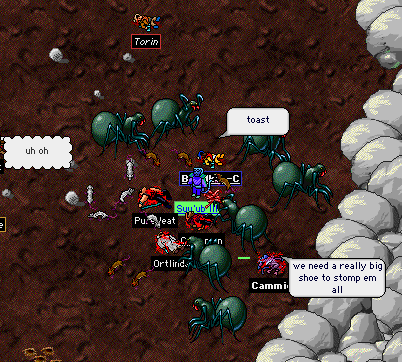 One of the worst massacres I've witnessed on the Open Hunt! Sadly we didn't get a giant Shoe of Bug Smushing from the gods, but we were eventually rescued. =)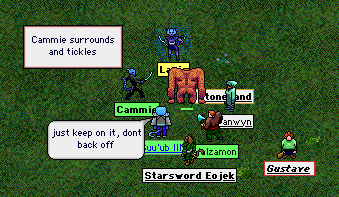 The Surround and Tickle™ method works, we brought that Hatred down in 30 minutes, tops! :D
This week's Open Hunt went to Barrens, and tanks to Supa Mystic Salazar I was actually able to hit stuff for once!
Sadly, this was advice I was unable to follow.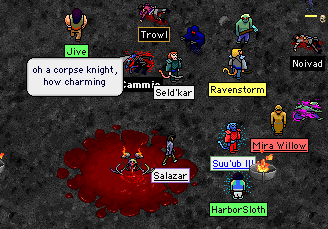 The locals treat me to their unique brand of flirting, while Sala shows off a little-know mystic skill: walking through a pool of blood without getting any on your shoes. Nice!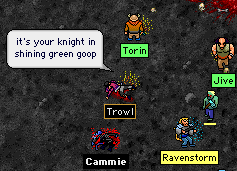 I might miss my hubby while he's travelling, but I'm not
that
lonely yet!

Seen in town: this very disturbin image of a cat dancing with a dog. Talk about animal abuse!
Til next time,
~ Cammie
Cammie's Story ~ Open Hunt Scrapbook, part one
Well first I wanna congratulate my hubby BKC on passin 4th circle! Woo great job sweetie (though I wish I had been first *cough*)! Anyways, to celebrate I bought a cask of stout: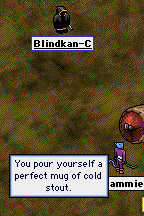 Don't let the sober sketch fool ya. As tribute to my hubby's proud Dwarven heritage, I assure you he got very drunk until he fell over! I just happened to be too tipsy to make a sketch at the time. :P
Then it was my turn to pass 4th! FINALLY, I might add. :P My favorite part was getting this snazzy new belt that matched the outfit I stole from my hubby, I mean, my new outfit. :D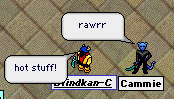 Then more celebrations as BKC, myself and some friends founded our very own clan dedicated to mid-level adventuring, Safari!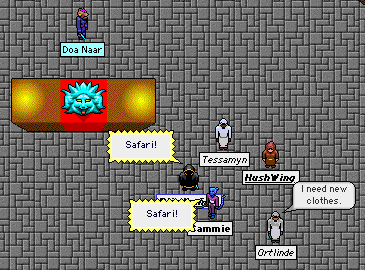 It was a difficult decision to leave OWE, and I want to thank them for welcoming me into their clan. It was an honor. However, Safari seems like the ideal next chapter in my exile, and we have already grown quite a bit. Recruit Umzara shows true Safari spirit:
Zo Safari!
We had a quiet moment in the midst of all the celebrating, when we took our rapidly-growing Dwarfens on an outing to this serene spot on Gungla Island. Family vacation paradise!
Like her momma, our little Nea'mora loves splashing and playing in the water.
Phemurr, however, is definitely his daddy's son. Always lookin for trouble!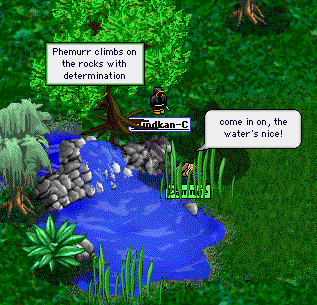 It's nice to take moments like this, to just relax and appreciate the love of family. They grow so fast and soon they'll be out adventuring on their own (though this Momma Fen is not quite ready to think about Phemurr wielding an axe... erp!)
Til next time,
~ Cammie
Cammie's Story ~ Milestones, celebrations, and a family outing!
I'm goin a little out of order with my sketches here, but I bring you epic breaking news!!
Hearing reports from Melben and Salazar of suspicious noid activity outside DTN, a few brave exiles (me, another fighter, and two mystics - you can prolly guess how that turned out XD) went to check it out. We encountered a routine sampling of Noid invaders, until we started hearing a strange hissing coming from the DTN cavern. Of course this intrepid reporter ran in to die, I mean investigate.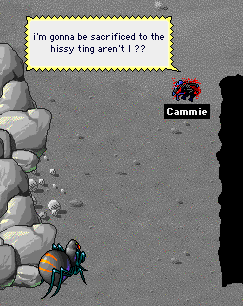 But that was just the beginning! There were Pitch noids, Black Widows and then a series of earthquakes, culminating in a massive one that pulled trees from the ground and seriously endangered the home of local Zo, Natas!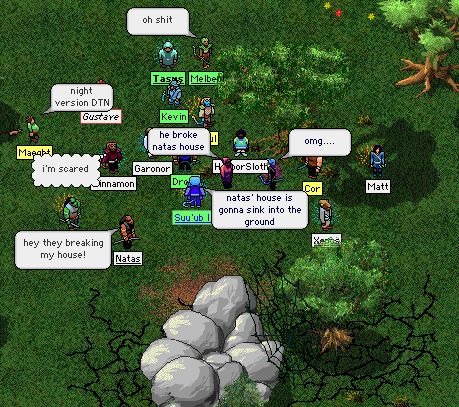 Quick, someone call Extreme Makeover: Cave Edition!
Then these nasty yellow poison noids appeared. They were called Wood Arachnoids, but they should be called Nasty Yellow Poison Arachnoids in this reporter's humble opinion. (You can also see the scope of the earthquake damage here.)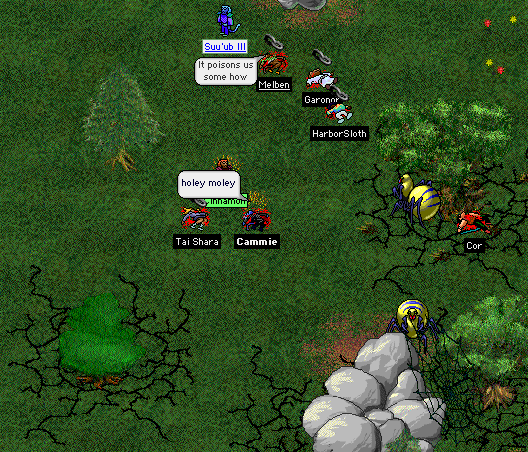 But that wasn't the end yet! Apparently the Noids decided to take "Death Trap" literally and unleash armored executioners on us!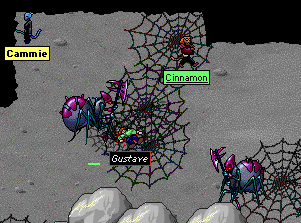 If I can't see them, they can't see me? ;)
Noids marching in formation. Not sure if they are plotting our demise or practicing for the next pep rally, but either way it was CREEPY! Our merry band of Noid squishers finally managed to defeat the Armored Arachnoids, but to the great disappointment of this reporter they were not chainable to make trophies. Come on, who wouldn't want one of these cuddly guys in their house, am I right??
The questions remain: How did the Noids fashion this armor and weaponry? Is this the beginning of a great War with the Noids? If so, will I ever get my trophy? Will DTN collapse into the ground, taking half of East forest with it? And does anyone have a couch Natas can sleep on?
Til next time,
~ Cammie
Cammie's Story ~ DTN Sinkhole and Executioner Noids!
We were innocently chillin in town one day when all of a sudden, slugapalooza! Well that's not so strange, but what happened next was!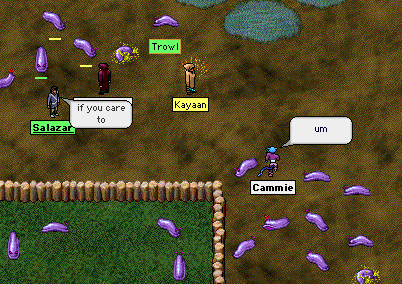 I'm not sure what happened here, but I'm pretty sure it was Trowl's fault.
I am transformed into a mighty leech... I WAS mighty, dammit! MURPLE!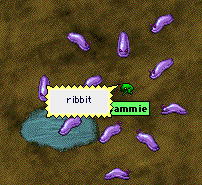 I'm still not sure if this was real or a bad 'nip trip, but it was kinda fun whatever it was. Ribbit!
Speaking of strange invasions...
Ever been walkin through town and get run over by a boat? Well, it's not nearly as much fun as it looks lemme tell ya!
Kora went one snell too far north. :D
Til next time,
~ Cammie
Cammie's Story ~ Town raided by exiles!
Well first I gotta apologize for the long time no update, but being the momma of twin Dwarfens is just as exhausting (and wonderful) as it sounds!
Hunting right before the blessed event...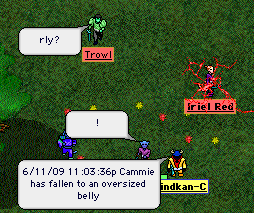 And after. :P Tanks to the healerers for not leavin my babies orphans!
And now, some random silliness =)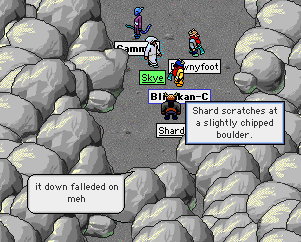 We were strollin through the foothills, when all of a sudden, SMUUUUSH! Suuuub got buried underneath a very large and angry rock!
After about an hour's worth of chippin (really, it was a lot of chippin!), we finally managed to set him free, hopefully none the worse for wear. Phew!
A KI Open Hunt reveals the Fen Messiah (take that, Fen President! :P)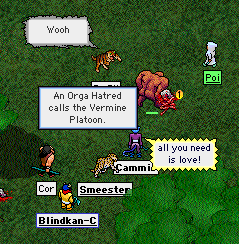 The vermine platoon proceeded to take out our healers. Tricky Orga!!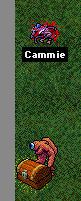 *cry*
A little fun with the hubby at Coli: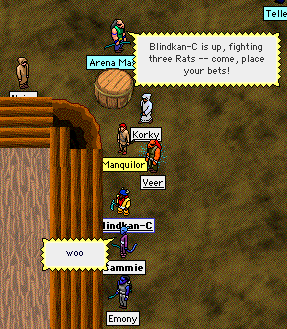 Cause two just wouldn't have been challenging enough. *nod*
It was touch and go for a while, but at last he prevailed. :D
Poor Ackkbar was so afraid, he jumped right into the lava! Only Ackk could get caught between one trap, and another trap...
Til next time,
~ Cammie
Cammie's Story ~ Orga child care?!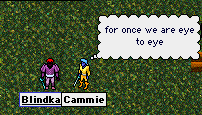 The carnival came to town, and we had fun dressing as carnies. While it was nice being on the same level, I missed the beard soon enough. :D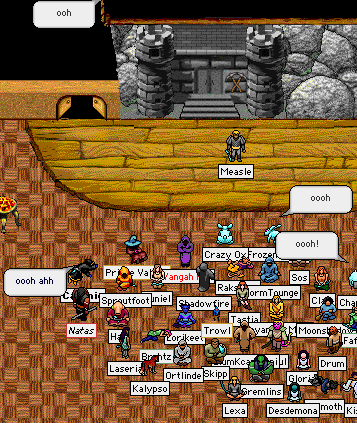 Puddleby Players debuted their new (musical) masterpiece, the Wizard of Peaceton! Here everyone admires the new backdrops designed by Fen Pres Largo. Ooh ahh!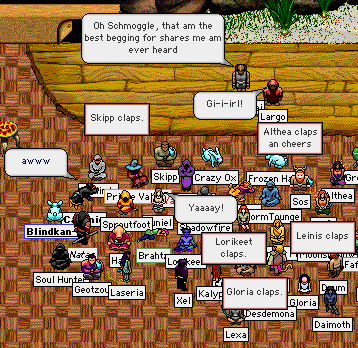 The story was very touching about a subject dear to my heart, an interracial romance! I laughed, I cried, I only winced a couple times at the singing. Bravo Puddleby Players!
Speaking of singing, I'm not sure my unique gift is appreciated...

Hmmmph!
This week's Open Hunt went to Metz. Fighting is becoming difficult with my ever-increasing belly, but I managed to have some fun. :D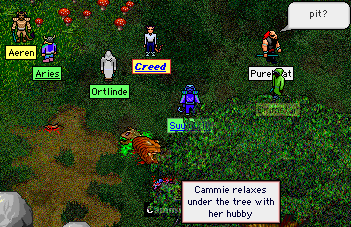 A little quality time together, courtesy of some Haremaus.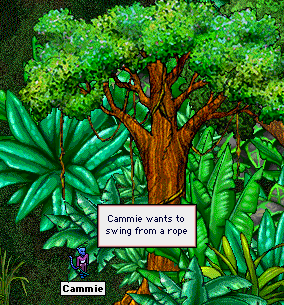 Wheeee! Oh hey, where'd everybody go?
I just
had
to ask...
Til next time,
~ Cammie
Cammie's Story ~ Carnival, theater, and death!
First, I have some exciting news to announce: BKC and I have learned we are expecting twins! I am thrilled and... huge. :D

While I have temporarily lost some of my feline agility, I haven't lost my thirst for adventure. :)
Woo my kinda hunt!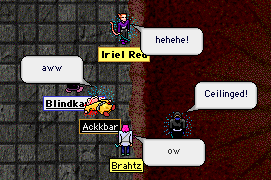 I swear, only Ackkbar could fall to ceiling. :P
Note: bad puns are almost as effective at warding off monsters as Detha.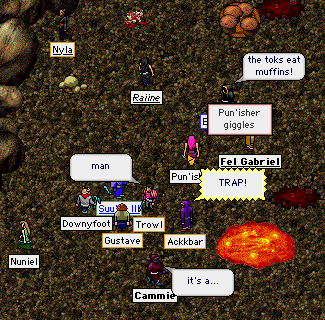 Ackkbar finds the lava pit, and my hubby finds... muffins??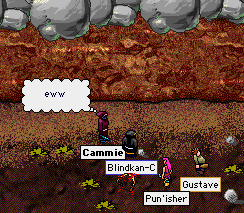 Crossing the "I Sure Hope it's Mud" River.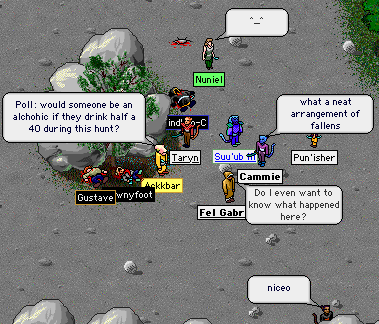 MAP: Mighty Artistic Pile!
Orga Hug? Orga Cupcake!
When spelunking goes horribly wrong:
Til next time,
~ Cammie
Cammie's Story ~ Joyful news and more adventures!
I hold TRAP entirely responsible for the following. :D
For our first official TRAMP hunt we decided to crash an Orga party!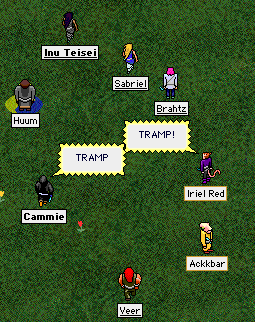 Orgas really have no sense of humor. :(
I think we're called TRAMP because we spend most of the time on our backs. :P
At some point poor Stonehand got ported to the Orga Village. Maybe the Orgas were seeking fashion tips? At any rate, it was up to TRAMP (and a few hardy helpers) to save the dwarf! If we could find him...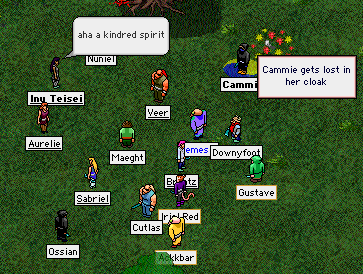 Hmm, where are those sleeves again?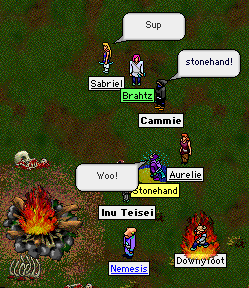 We rescued him, and no one had to rescue us. Victory! :D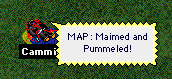 Til next time,
~ Cammie
Cammie's Story ~ TRAMP!