This week's Open Hunt made an attempt to go deep into the Pitch Caves so folks could study pathfinding book 2. This was a very dangerous mission and I was a bit nervous going in! We made it through the Mystic teleport (my first time experiencing that) and landed in this crazy place.
Caught in a web again!
More spider prey! I think I make it too easy for them...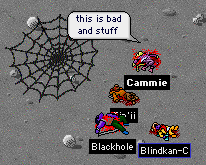 Well it was a good effort, but we were unable to reach the book this time. Instead of pointing the finger at errors made on this trip, I prefer to look at it in the greater scope of life's challenges. Success is never guaranteed, and it would be boring if it was! Such is the way of adventure. Hopefully the next time we'll make it!
Til next time,
~ Cammie
Cammie's Story ~ Into the Pitch Caves