Cammie's Story ~ PF book and milestones!

Wow, it's my fiftieth entry already! I have been a busy Fen, haven't I! Well it's only fitting that the fiftieth entry would feature two milestones, one for me and one for my hubby. :)

First, the Open Hunt made the trip to the Pitch Caves and PF book 1. This was exciting for us, as hubby had just finished his training with Marshy and was ready to start studying the book!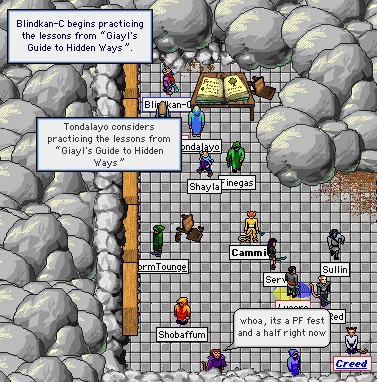 Congrats sweetie! =)




A bit of trouble upon exiting...




And the Sheriff saved the day! It was very impressive, and he returned to town covered with battle scars and spider guts!

A fun and successful hunt, tanks all! =)

A few more things that happened this week...




A Thoom line is spotted in town. Where do they pull those flags outta... wait, I don't wanna know!




I enlist a Trool enforcer for an intervention...




Operation: Flora begins. We're gonna fill the whole house with flowers (if hubby can overcome his allergies.) It even matches his... my... er, our outfit! hehe.

Finally, a milestone for me:




Wahoo!! I'm still pretty far from my goal of 300 Atkus trainings, but after a bit of time with Regia and Histia I'll be back for more!

Til next time,
~ Cammie