Cammie's Story ~ A whole mess of hunts, part two!

Now with even more mess! :D

First up is this impromptu and rather unusual hunt to... I have no idea!

Our mission: escort the mystic At'n to a trainer, and get Suu'ub some shiny boots. Sounds fun!

First we had to get through these guards:




Boy, this guy sure has a lot of guards!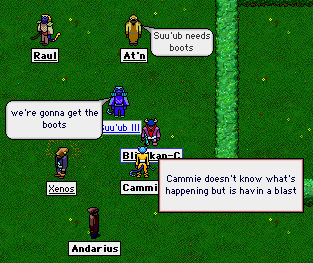 Yeah, that's pretty much my standard MO. :D

I got to meet the legendary Juliosaur:




RUN AWAY!!!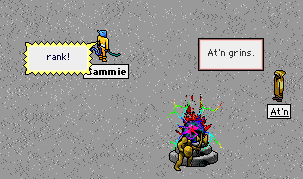 For some reason, opening up a box of boots is a really big deal! I got 12 ranks... for clothes shopping! :D (Well we had to defeat a few nasties to get em, but it was worth it!)




We were even able to bring home a sentry for our house. His name is Joe. :)

A few more memorable hunts:




*shakes fist* You will feel my furry wrath, Spriggins!!




Hey, that's never stopped me before. ;)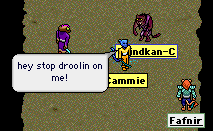 The perils of having a Lyfe hubby.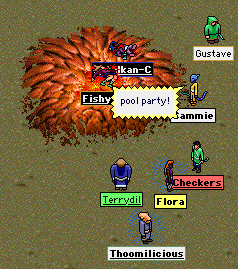 Everybody into the lava! (I think only one of us was actually poisoned. ;) Ah, fun times!)

TRAP held an open hunt, yay!




I'm not sure if she meant the Sun Wyrm or us. :D (We did make it out, but sadly we had to leave the Sun behind.)

Speaking of traps, this sketch was sent to me by Ackkbar, the King of traps, falling, and fun times. :D He remarked on the kidney-shape of the pool and, well...




Traps are everywhere!!

Til next time,
~ Cammie