Cammie's Story ~ My quest to become Puddleby's most badass Ranger/dentist begins!
Don't laugh, I can be very badass. Grrrr! See?
Anyways, since passing 3rd I've started experimenting with some Rangery... stuff, and training super hard with Dentir. Jade Arachnoids are perfect training for my toothy studies. Probably because they have reeeally long sharp teeth!
A particularly brutal night in the Noid mines. Our entire party fell twice, most of us three times (all but our super-healer Suu'ub III, I believe)!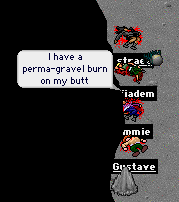 Lots of time fallen leads to TMI.
Til next time,
~ Cammie