Cammie's Story ~ Out 'n about!
Well I made my first step towards becoming a Ranger this week. I'm the proud owner of a shiny new Gossamer! While I don't have the power to wield it properly yet, I love the acrobatic balance it gives. You almost wouldn't notice what a clumsy kitty I am!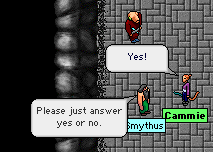 Smitty didn't seem to understand my enthusiasm. Pssh, crankly old man! He really needs to get out more! Speaking of getting out, here are a few of my recent adventures:
With patience, two new 3rd-circle fighters and one awesome Thoomy healer can defeat the fierce Blind Amphibia!
After the hunt, I got to tour Blindkan-C's house and see the trophy displayed. It's now a very fierce trashcan!
Hmm maybe I should change my journal name to Better Homes and Gardens, or possibly Puddleby Cribs?
Yeah this is a fairly typical end of a hunt, this time in Snagglywood. It took ages to remove all those snaggly bits from my tail!
Finally I joined some Clan members for a stomp through the Valley. Now I got the feeling this was a leisurely stroll for them, but for me it was super intense warfare!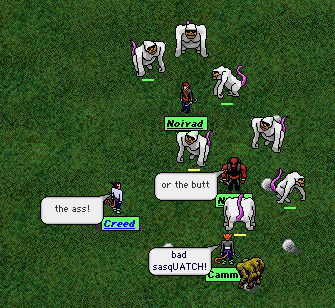 Here's a sketch of me lightly tapping a Sasquatch on the butt and sending him to bed without dinner. Yeah, I'm bad. Unfortunately I wasn't able to get more sketches, cause it was tough out there!
Tankies to Natas, Noivad and Creed for keeping me alive. It was fun and we emerged victorious! Tuska OWE!
Til next time,
~ Cammie