Cammie's Story ~ Open Hunt, times two!
Well some of us exiles who haven't reached higher levels yet decided we wanted a hunt of our own. Things didn't go quite as planned due to lack of healers, but we still had a fun excursion to Noth Island led by the awesome SuuuuuubIII. I had only been to Noth once before and had very little memory of it.
It's the home of the evil Jello molds!
We pillaged and plundered and had a generally good time! Tanks to all who attended the hunt!
Before the OWE Open Hunt, we inducted the lovely healer Terise DuMiroir into the Clan. Tuska Terise!! Glad to have you aboard! :)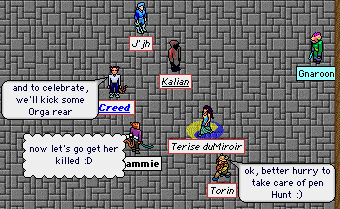 The we ventured on to Hatred's Hollow so folks could train with the advanced trainers who live in the grotto. It was a relatively easy run, at least for those who didn't get lost. :P And yes I know I resemble that remark, but not this time! I was a good kitty, I swear!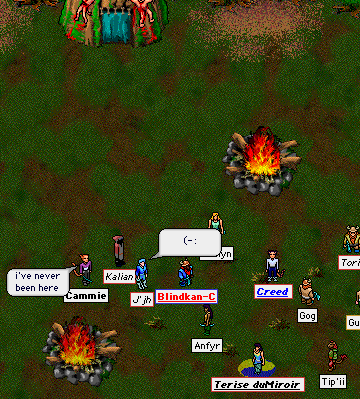 We then went on to the Orga Village, which was a new sight to me. I hope they're puttin up some Orga condos soon cause those huts are in sorry shape!
Til next time,
~ Cammie