Cammie's Story ~ MAP excursion to Dredwood
The second MAP hunt took us to the fierce Orga land of Dredwood. There's not much I enjoy more than squishing Orgas!
Except sometimes when I miss the Orga and hit a tree... oops! *giggle*
Okie, maybe not the best time to make a sketch!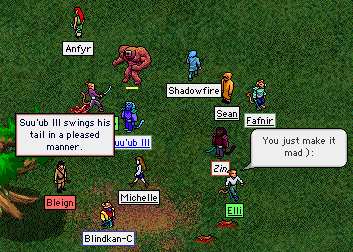 How does an Orga become a Hatred, anyways? Does he start off as an Orga Mild Resentment and then become an Orga Strong Dislike and then work up to Hatred, or what? Well, he sure lived up to his name!
Then we moved on to the Tree Giants, which believe me are tough to chop down.
Timberrrr!!
It was red before I touched it! Perhaps I chose the wrong profession?
Til next time,
~ Cammie