Cammie's Story ~ The return of the Newbielympics!
With the recent influx of new exiles (I guess Mobius woke up on the wrong side of the bed, eh?) my hubby and I decided to bring back an event we remembered fondly, the Newbielympics. With the go-ahead and some help from members of Winds of Dawn, the event's originators, we were off! Let the games begin!
The first experiment in newbie torture, I mean, event! was the east town footrace. I regret that I have no sketches of the actual races, but for this and many of the events I was at the finish line holding my Official Looking Clipboard™. So I apologize for the lack of live action reporting! It came down to a Thoomdown between Ackkbar and Hoshi, with Hoshi winning. A very exciting start!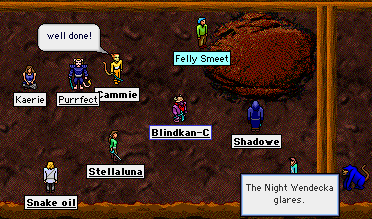 Purrfect made a very impressive showing in this event, collecting scents of 54 critters.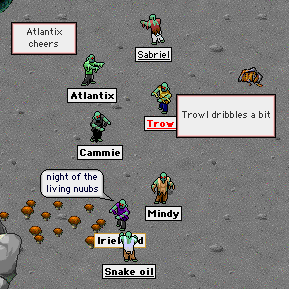 We spent a lot of time hangin out with dead guys. :P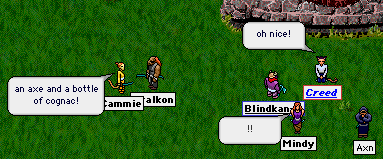 Pralkon placed 3rd in the haiku contest. I hope he didn't try to use his prizes at the same time! =)
The overall winner of the 'lympics was Trowl, who made a very impressive showing and won a very impressive prize!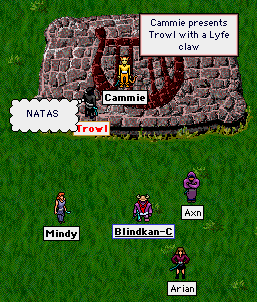 Well I'm sorry I don't have more sketches of the events, but I was runnin around like a headless chicken most of the time! :P If anyone has else sketches, I can be reached at cammiecat@yahoo.com :)
Finally, the event organizers decided to blow off a little steam in creative ways!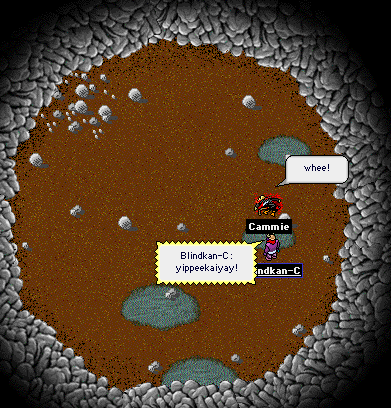 There was a big sign outside saying, "Danger!" Really, what else could we do??
Whee, I gots a parachute! T'was fun... til I landed on top of a big angry Orga. Oops!
A HUGE tanks to all who volunteered, donated to and participated in the Newbielympics! It wasn't easy, but I hope it turned out fun. :) I enjoyed getting to know the crop of new exiles, you guys are awesome!
Til next time,
~ Cammie