Awhile back, I finally located the old hermit who lives in the Marsh. It took a little coercion to get him to train me:
I know how he feels! Maybe he needs a Fen bed?
There was one path I just couldn't open. I tried everything!
An incantation I learned on the mainland...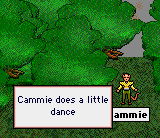 A dance I later learned was to summon Orga... oops.
Finally I followed another exile through the path and, voila! A whole new hunting ground. I came back later to commemorate the event by falling, but the critters wouldn't cooperate.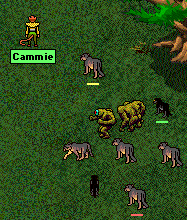 I'll have to try harder next time!
I'm glad my days of
shrub humping
path learning are over, at least for now. I don't think I'll be going back to see Marshy any time soon. He seems to have entirely the wrong idea about me!
I just wanted a little peck on the cheek. Sheesh! Anyways the place stinks like 100 dead water lizards so I high-tailed it out of there and to my cozy bed, to dream of tomorrow's adventures.

Til next time,
~ Cammie
Cammie's Story ~ The Pathfinding Saga!