We were ambling around MI when my favorite Fen healer asked if we'd like to go hunt Toks. Sounds hot! And with my hubby's sexy pf we were good to go!
The unfortunate result of my Mad Tag Party. I do think I managed to hit everything though! :D
We ran into trouble deep in, when we met up with some Shamans who had no arms and shot fire out of their backs... or somethin! Anyways, most of us fell and unfortunately our pf got left behind. Oops! After assuring him we were comin back, we waited around for another pf. I got some knitting done, and then Kisa showed up. Yay! Back into the fiery fray...
He solo'ed it. *nod*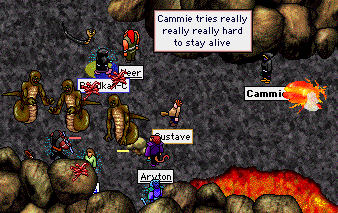 I even managed to drag this really cool Lava Beetle trophy all the way out of the mine! There was a scary moment when I got double-rocked outside the keep, but beaten and bloody I heroically brought him to town. Go me! (His name, by the way, is Mr. Burns.)
Not having our day's fill of trouble yet, BKC and I headed off to the Savannah.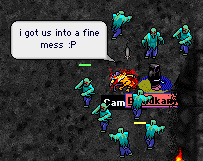 I got hypnotized by a pretty shiny thing and... ended up here. It wasn't my fault, I swear! It was so... shiny!
Well... :P
Til next time,
~ Cammie
Cammie's story ~ A really hot time!
Before the Open Hunt this week, Fishylish organized a group to explore the gems in underground KI. Adventure
and
shiny things? Count me in!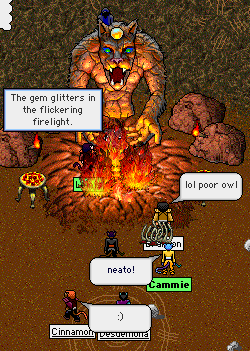 We tried sacrificing an owl to the statue, but nothing happened. *giggle*
Whoever hid this gem really meant business! At least poor Leinis had a buddy. :P
We didn't learn anything about the gems, but it was still a fun adventure (particularly for those of us who'd never been there before)! Tanks to Fishylish for the initiative and sense of curiosity (which happily did not kill the cat)! :D
The Open Hunt was organized by Creed this week, and we ended up having a grand time at the Mountain Glen Trool Cave!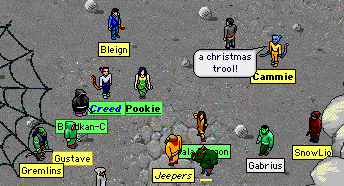 Festive, and deadly!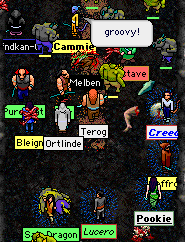 Between the Bongo trools and the Cash Register Trools, we had quite a funky band going on!
Some of us have unusual ideas of fun! ;)
Til next time,
~ Cammie
Cammie's story ~ Adventure and shiny things!
Yay more silliness!!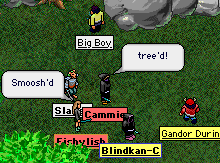 Watch out for that treeeeee!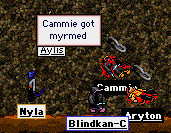 And Myrms!
And Lyfes wearing pants!!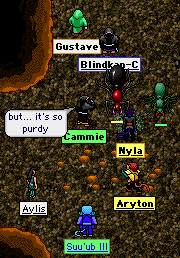 And... but ... I WANT it!! *stomps paw*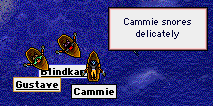 It's important to have catnaps (boatnaps?) in between hunts.
I think they call it Wisher's Gate because that's the only way to get in. :/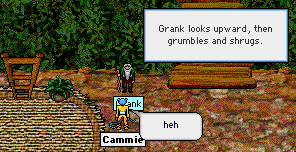 Perhaps he found Puddleby Hollows more to his liking! *giggle*
Warning: the following contains a shocking image of horror, proceed at your own risk!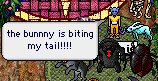 Til next time
~ Cammie
Cammie's story ~ Attack of the Killer Bunny, Part Two!
It all started with the rats...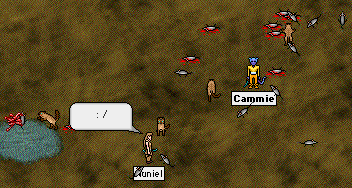 who got killed by the cats...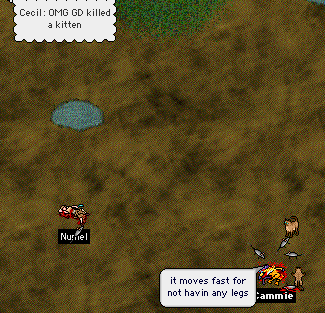 who got killed by Greater Deaths (this kitty included)!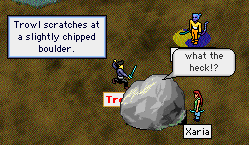 The sky is falling! The sky is falling! And it's... talking?!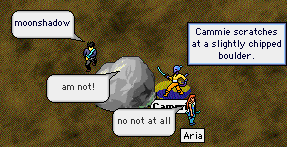 Turned out there was a poor lil halfling flattened under the rock! We chipped him loose and he made a full recovery, but the mystery rock remains... a mystery!
Then came the noids...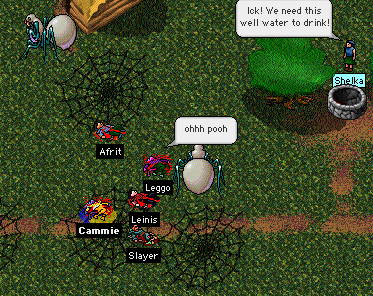 Sorry lady, we seem to have more pressing issues!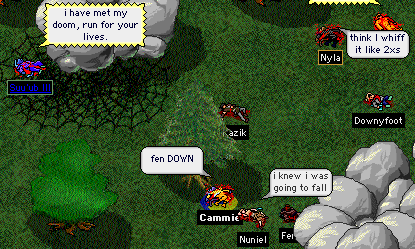 We really should have taken Suuuby's advice...
I thought I was following a large group of exiles, but I ended up here all alone! Eventually I was rescued, but...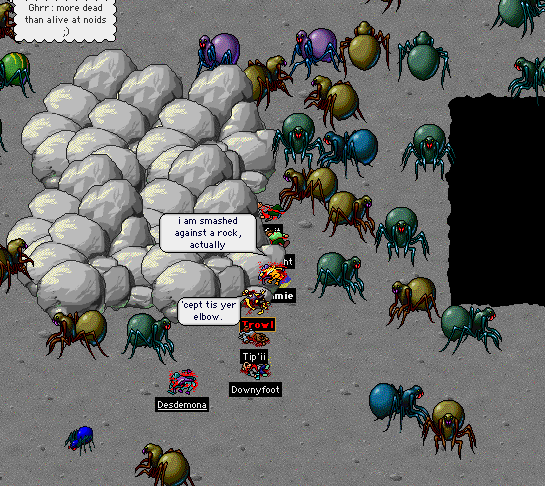 apparently I have some kind of aversion to being alive and well. We heard reports that town was under seige by Abyssal thingies while we lay fallen, and most of us departed. It was madness!
Then there was this rogue trool: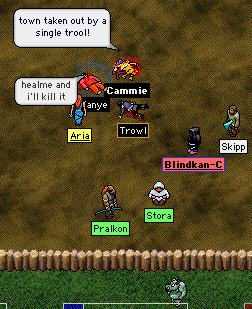 I swear he was laughin at us, too!
Til next time,
~ Cammie
Cammie's story ~ The natives are getting restless!
This week's brave MAPpers decided to venture into Camp Dred. Despite the catchy-sounding name, we did not toast marshmallows or sing campfire songs. Instead, we died. A LOT. :D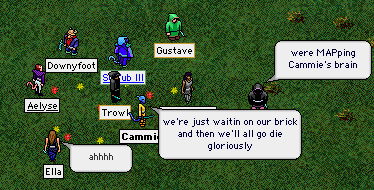 Dredwood: kinda like the inside of my brain, but with more Orgas.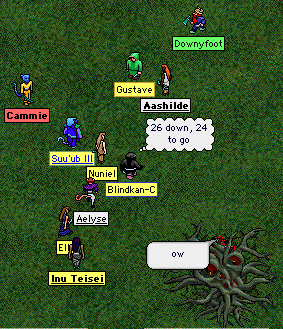 Erm... exiles 1, bush 0?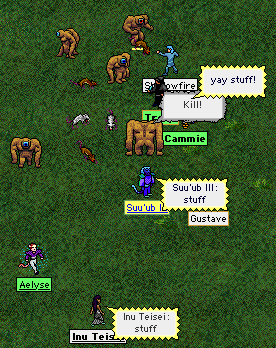 We were wandering through, merrily bashing stuff...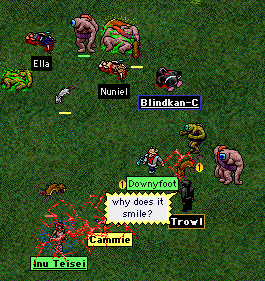 when we were suddenly struck by how Camp Dred got its name!
It's not a MAP hunt without a rank or two! Also, I'm taking bets on what Trowl has 4 of. Fingers? Toes? Thoughts? hmmm.
And in case anyone was wondering what my brain really looks like...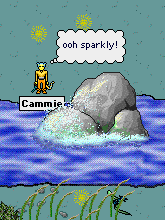 Pretty scary huh?
Til next time,
~ Cammie
Cammie's Story ~ So that's why they call it Camp Dred!
I have certainly never denied being a silly butt. :D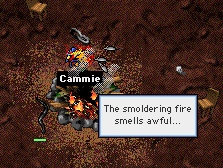 I'd imagine the burning fur has something to do with it...
These Mystic gangs are a real menace. A sparkly menace, but a menace all the same!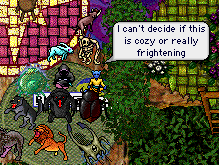 Turns out it was both... :)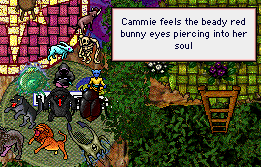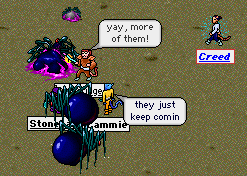 We asked for a BIG spawn, but this wasn't exactly what we had in mind...
No, it wasn't the 17 Mammoth Arachne that struck fear into PV's heart, it was the sentient Cave Cobra! Sheesh, aren't those things scary enough when they
don't
speak?!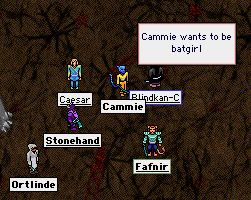 I don't remember the exact context here ~ somethin about bat morphs ~ but 'tis true all the same!
Til next time
~ Batfen
Cammie's Story ~ In which I am easily amused!
MAP returned to Dal'noth, where we were greeted by a not-so-welcoming party of 'dews!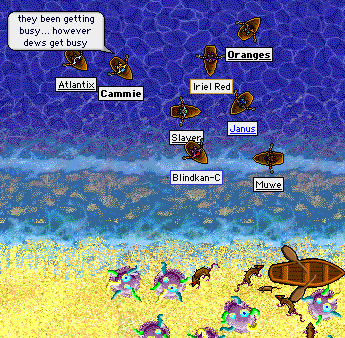 I. don't. want. to. know.
After squishing all the 'dews before they could... reproduce further, we moved on to 'noths.
It would be cool if Janus could shoot lightning out of his eyes. Well, it would. :D
The OWE open hunt ventured to a place I'd never seen before, the Tok'han caverns beneath Melabrion's Keep.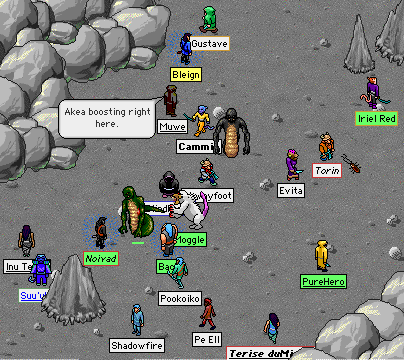 I report for my boost so I can help kick some coily Tok tail. :D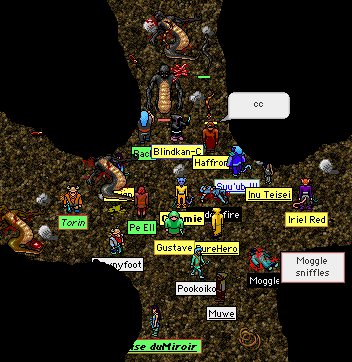 Cramped space + lots of exiles + Cave Cobras resulted in chaos and snakebites. So we decided to move on to the wide open spaces of Metz!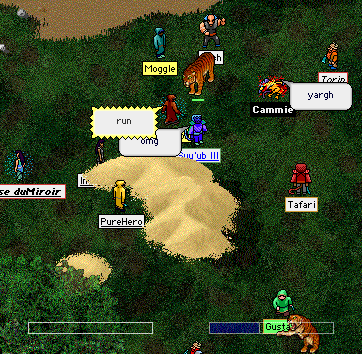 Momma Haremau's revenge? yipes!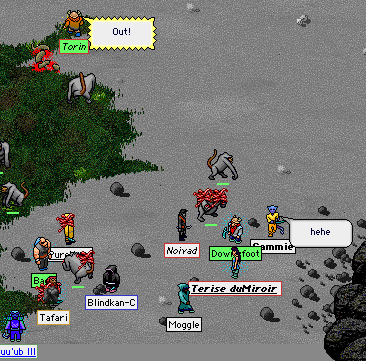 Here's a sketch of me laughing bravely in the face of danger! (Okay okay, I was probably distracted by a shiny rock or somethin'. Hmmmph!) Anyways, these are Twilight Wendies which I thought quite pretty! Hopefully next time we can trophyize one. :D I hadn't been to this area of Metz before, and it was really neat to see the sights. Tanks all for another fun Open Hunt! :)
Til next time,
~ Cammie
Cammie's Story ~ Pallidews, Tok'hans and Haremaus, OH MY!
Sometimes fun happens right in our puddly little town. :)
I'm easily distracted by shiny things, and dancing furry pink things.
I wanna Smeester trophy sooooo bad!
I had an amusing encounter with Fen Pres Largo the other day. I was caught making a sketch of his and Raks' fabulous outfits, when he asked if I'd like it autographed. Sure, I said, why not?
While he was busily oozing charm everywheres...
"somebody" busted out the pink paint. :D (How does she fit all that paint in her pack anyways?) Well, it was very funny!
Sometimes town is so fun that Noids wanna crash the party...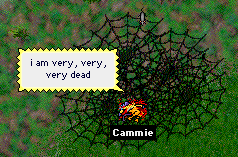 Not to mention Greater Deaths!
Party's over. :(
See, Geotzou had to come rescue Andarius after he got trapped rescuing me after I came to rescue Lightfrost who had gone to rescue Shadowfire from KI Cove. Got it? Good. :D
Speaking of unfortunate...
Yup, I fell to a Water Lizard. :P
Til next time,
~ Cammie
Cammie's Story ~ TC fun, invasions, and unfortunate events!
I always enjoy lounging by (and sometimes in) the pretty waterfall:
Who says Fens don't like to swim? ;)
Neener neener!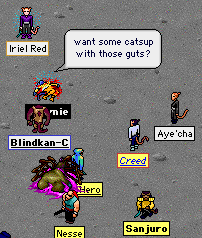 My Lyfe hubby tried to eat my poor squished guts. Luckily for all he was cured not long after this!
While we defeated the nasty noids with relative ease, the real trouble happened on the way out.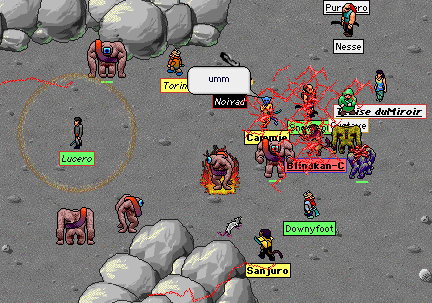 AIYEEE which way is out again?!
Last Fen standing! Go Iriel! :D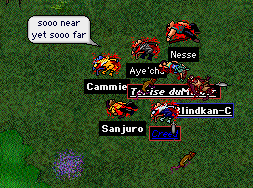 Our chainer Bulgatra fell and went through the portal after a very heroic run. After soaking up the ambience for a bit, we were eventually rescued and returned to town. Tanks all for another fun Open Hunt! I only wish we could have stopped by Book 1 so the hubby could train more sexy pf ;) but we lacked healing power. Hopefully we'll make it on the next trip!
Til next time,
~ Cammie
Cammie's Story ~ Stompin' through the Pitch Caves
Now with even more mess! :D
First up is this impromptu and rather unusual hunt to... I have no idea!
Our mission: escort the mystic At'n to a trainer, and get Suu'ub some shiny boots. Sounds fun!
First we had to get through these guards:
Boy, this guy sure has a lot of guards!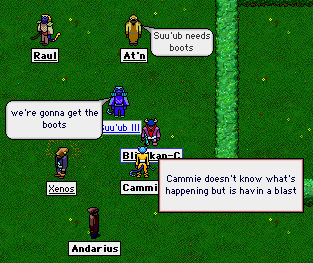 Yeah, that's pretty much my standard MO. :D
I got to meet the legendary Juliosaur:
RUN AWAY!!!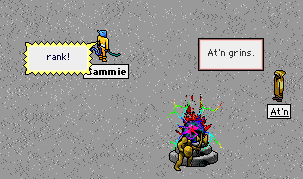 For some reason, opening up a box of boots is a really big deal! I got 12 ranks... for clothes shopping! :D (Well we had to defeat a few nasties to get em, but it was worth it!)
We were even able to bring home a sentry for our house. His name is Joe. :)
A few more memorable hunts:
*shakes fist* You will feel my furry wrath, Spriggins!!
Hey, that's never stopped me before. ;)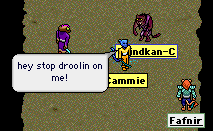 The perils of having a Lyfe hubby.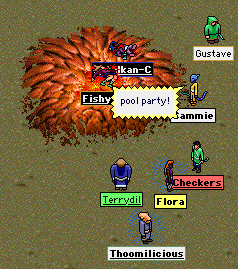 Everybody into the lava! (I think only one of us was actually poisoned. ;) Ah, fun times!)
TRAP held an open hunt, yay!
I'm not sure if she meant the Sun Wyrm or us. :D (We did make it out, but sadly we had to leave the Sun behind.)
Speaking of traps, this sketch was sent to me by Ackkbar, the King of traps, falling, and fun times. :D He remarked on the kidney-shape of the pool and, well...
Traps are everywhere!!
Til next time,
~ Cammie
Cammie's Story ~ A whole mess of hunts, part two!