(And it's, y'know,
me
, so the word "mess" should probably be taken literally. :D)
Apparently the Wendies have been gettin' busy in the foothills lately!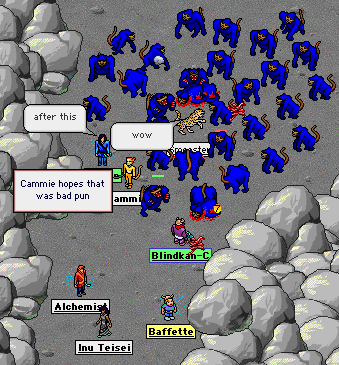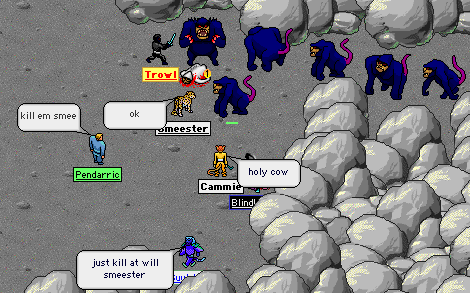 Large Angry Midnight Wendeckas should really not take fertility drugs. Yipes!
Twice I ranked right after falling. Is somebody trying to tell me something??
Next, the Open Hunt returned to the Barrens. Golly, I can't imagine why they call it that!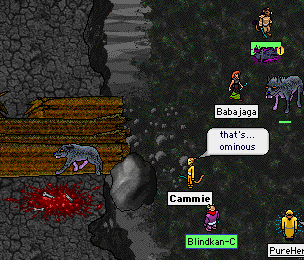 The last group didn't seem to fare too well. Hopefully we can do better!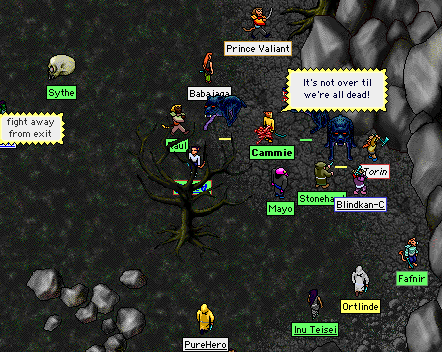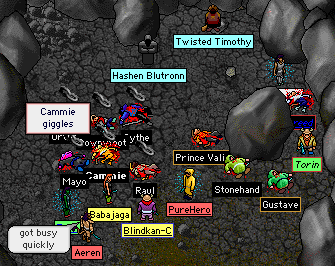 I didn't do it, I swear!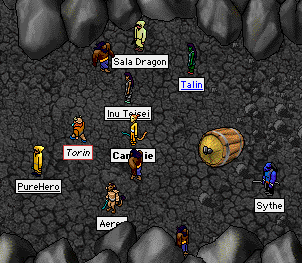 Somehow we made it alive into the rebel base. They didn't attack, which I guess means we had gained esteem? (I am still a little fuzz-brained on the whole esteem thing, but I'm generally pretty fuzzy anyways!) It was neat to see the inside of the base, but they could really use a good decorator! Or... a decorator.
Finally, a look at Gandor and BKC brightening up a Foothills hunt with their new colored helmets. Pricey, but worth it I say! Lookin good! =)
Part two comin up!
Til next time,
~ Cammie
Cammie's Story ~ A whole mess of hunts, part one!
With the recent influx of new exiles (I guess Mobius woke up on the wrong side of the bed, eh?) my hubby and I decided to bring back an event we remembered fondly, the Newbielympics. With the go-ahead and some help from members of Winds of Dawn, the event's originators, we were off! Let the games begin!
The first experiment in newbie torture, I mean, event! was the east town footrace. I regret that I have no sketches of the actual races, but for this and many of the events I was at the finish line holding my Official Looking Clipboard™. So I apologize for the lack of live action reporting! It came down to a Thoomdown between Ackkbar and Hoshi, with Hoshi winning. A very exciting start!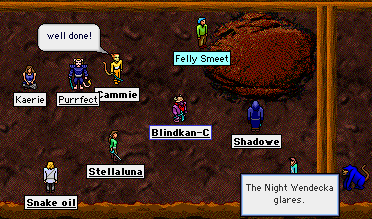 Purrfect made a very impressive showing in this event, collecting scents of 54 critters.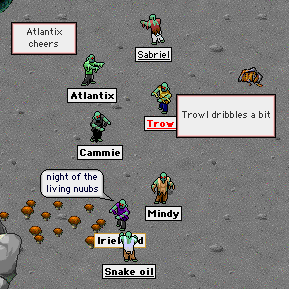 We spent a lot of time hangin out with dead guys. :P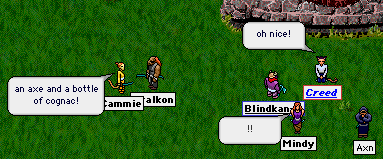 Pralkon placed 3rd in the haiku contest. I hope he didn't try to use his prizes at the same time! =)
The overall winner of the 'lympics was Trowl, who made a very impressive showing and won a very impressive prize!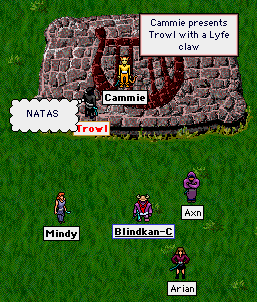 Well I'm sorry I don't have more sketches of the events, but I was runnin around like a headless chicken most of the time! :P If anyone has else sketches, I can be reached at cammiecat@yahoo.com :)
Finally, the event organizers decided to blow off a little steam in creative ways!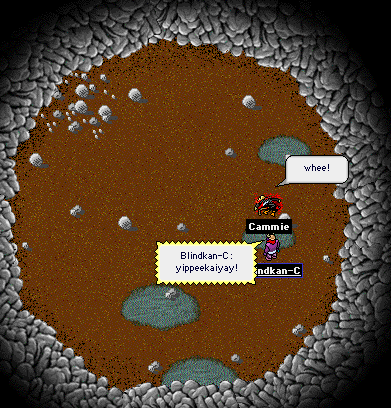 There was a big sign outside saying, "Danger!" Really, what else could we do??
Whee, I gots a parachute! T'was fun... til I landed on top of a big angry Orga. Oops!
A HUGE tanks to all who volunteered, donated to and participated in the Newbielympics! It wasn't easy, but I hope it turned out fun. :) I enjoyed getting to know the crop of new exiles, you guys are awesome!
Til next time,
~ Cammie
Cammie's Story ~ The return of the Newbielympics!
For this week's MAP hunt we decided to explore Greymyr Village. We encountered trouble at first with several 'myrs pelting us with rocks, but hit our stride when we tried pounding one at a time while Inu ran the rest.
Surrounded and pounded by third circle fighters! We win! =)
MAP: even the rocks get ranks!
Turned out he just wanted a hug. :(
Well by this time I was wonderin, is there an actual village with little Greymyr shops and houses and such? Or, as Downyfoot pointed out, a candy store? The answer, sadly, was no. Savages! And the answer to the origin of Greymyr Rock Candy was even more disturbing!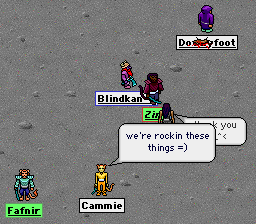 MAP: if the fighting doesn't kill you, the bad puns will!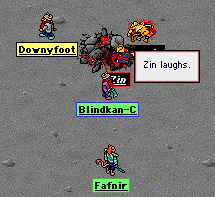 Zin and I kept getting hit by the dreaded Double Fen Rock Takedown.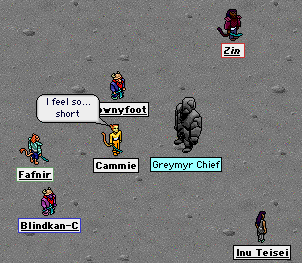 Now I know how the hubby feels... heh heh heh. Well this chief guy had a lot to say about "obelisks" and "exits" which was probably pretty deep for a big pile of rocks, but I had no idea what he was talkin about!
We left via a pf area of the passes I'd never seen before. This lovely pond was hidden away back there!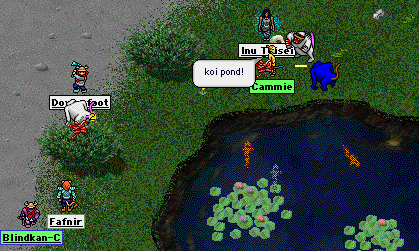 /action scoops out a fish with her paw and eats it quick!
/action looks innocent.
Whaaaaaat? :P
Til next time,
~ Cammie
Cammie's Story ~ MAP rocks Greymyr Village!
Instead of focusing on one home this month, I'll be spotlighting 3 beautiful gardens (and one amazing closet belonging to guess-which-Clan? :D)
First we have the lovely landscaping of fellow trophy-hunter Aldernon:
I never did learn what that pink thing was, but I wonder if he calls it "Pinky?"
Next up was the Mini Mansion. Chance showed us around the beautiful garden...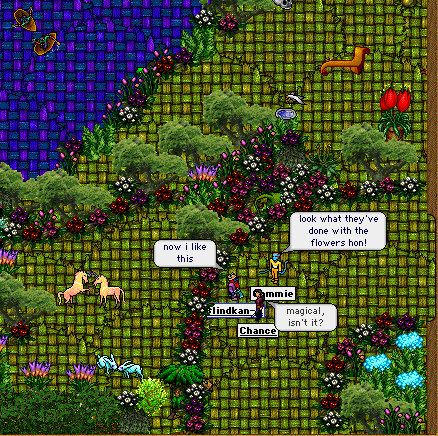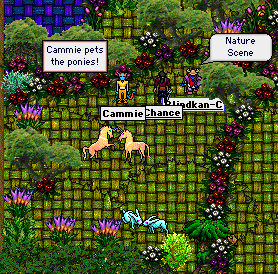 complete with frolicking bunnies and unicorns =) A magical place indeed!
And speaking of magical places... may I present the majesty that is the Mini closet!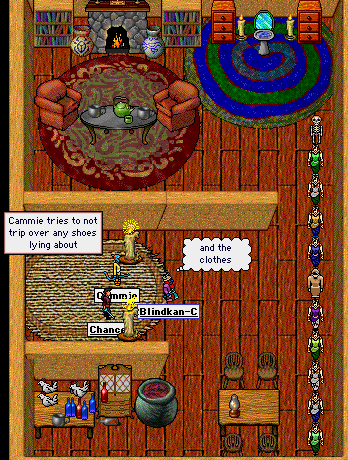 Well color this girl impressed! (At some point here the hubby got bored and wandered off... men! Honestly. :P)
Many tanks to Chance for the tour of her clan's showplace!
Last but not least, we viewed the fabulous home of Finegas and Koraleva: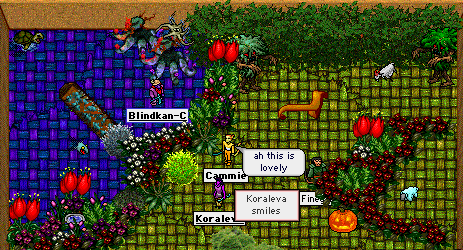 I enjoy the serenity of the garden, while hubby goes for an impromptu swim. =) I think I have been inspired by all these landscapes to try my own hand, er, paw at gardening!
It's always fun to compare trophies with a fellow enthusiast!
Tankies for the tours, everyone! Want your home to appear in Puddleby Cribs? Drop me a sunstone!
Til next time,
~ Cammie
Puddleby Cribs, Part two: Better Closets and Gardens!
This week's Open Hunt took us to the lush landscape of Metzetli Island! My training with Atkus seems to be paying off, as I was able to tag Haremaus, etc. more easily than a mere couple weeks ago.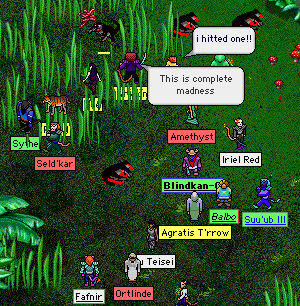 Madness? My favorite! :D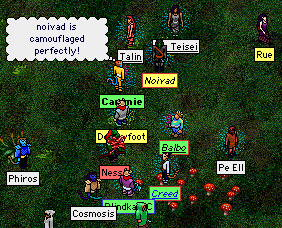 Some of us arrived better prepared than others! (and a big thank-you to Noivad for getting us the stuffed Haremau. :D)
And half the group is felled by... Mantises. They only
look
delicate, I swear!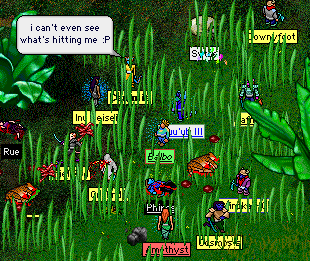 Traveler's Advisory: Beware whatever lurks in the tall grass!
Part of the group split to go to a tougher area, and the rest of us stayed to take on the kittens, crickets, and frogs. Good times (and many trophies :D) were had! =)
Til next time,
~ Cammie
Cammie's Story ~ Rumble in the Jungle!
You know... those days?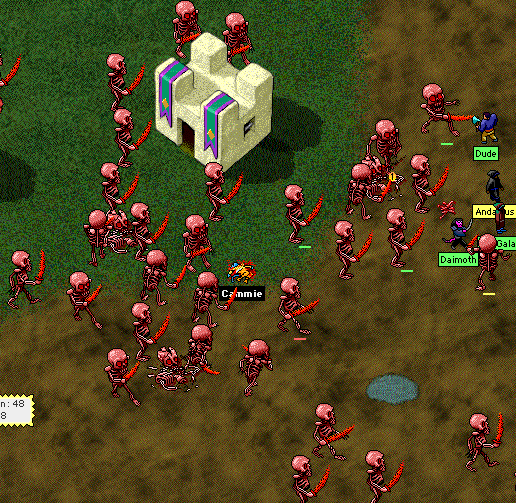 When it feels like an entire Abyssal army has tromped across your bloody corpse?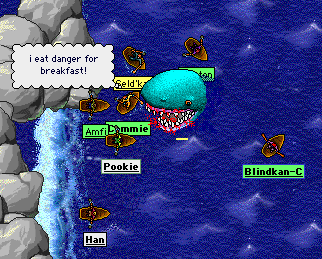 You can probably figure out who ended up being whose breakfast here...
At'n drops by Scarmis to say "hi."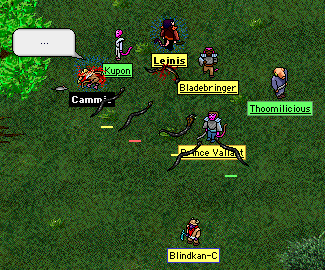 6 Cave Cobras spawning directly in front of you is always a good time!
Amazingly, Aryton actually got us out...
There was no help for poor Seld'kar though.
I probably shouldn't have sold my recipe for Chicken and Meshra Baby Stew to Haricot... *turns vaguely green*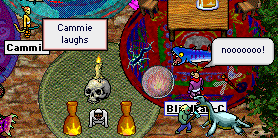 Some days, you get trapped by your own trophies! (This was, admittedly, hilarious. :D)
Til next time,
~ Cammie
Cammie's Story ~ Ever have one of those days, part two!
Wow, it's my fiftieth entry already! I have been a busy Fen, haven't I! Well it's only fitting that the fiftieth entry would feature two milestones, one for me and one for my hubby. :)
First, the Open Hunt made the trip to the Pitch Caves and PF book 1. This was exciting for us, as hubby had just finished his training with Marshy and was ready to start studying the book!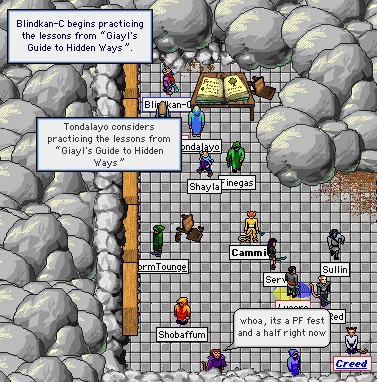 Congrats sweetie! =)
A bit of trouble upon exiting...
And the Sheriff saved the day! It was very impressive, and he returned to town covered with battle scars and spider guts!
A fun and successful hunt, tanks all! =)
A few more things that happened this week...
A Thoom line is spotted in town. Where do they pull those flags outta... wait, I don't wanna know!
I enlist a Trool enforcer for an intervention...
Operation: Flora begins. We're gonna fill the whole house with flowers (if hubby can overcome his allergies.) It even matches his... my... er, our outfit! hehe.
Finally, a milestone for me:
Wahoo!! I'm still pretty far from my goal of 300 Atkus trainings, but after a bit of time with Regia and Histia I'll be back for more!
Til next time,
~ Cammie
Cammie's Story ~ PF book and milestones!
This week's MAP expedition set sail for the strange and forlorn isle of Noth. As usual, we livened things up pretty fast. :D

Two of those blue lightning guys was two too many! It took three salves to raise poor Fishy. Oops...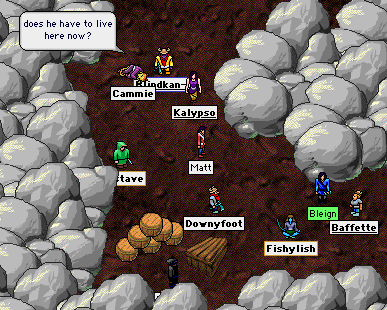 And now, it's time for another edition of TRAP! This time poor Andarius got caught behind a crate! After much bemusement and saying "huh?," he managed to break loose with the help of a bb'er, a chain, and a bit of cunning. We were rewarded by the gods for "getting out of tight spot." I'm glad we were able to amuse them... :P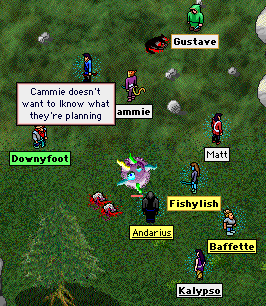 Baffette noted it sounds like the Pallidews are saying, "Let's plan on it." As if they weren't creepy enough, now they're plotting against us!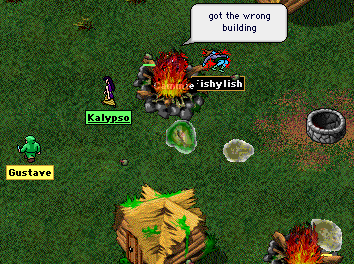 I ran amok and found myself in a herd of wild jello molds! Maybe roasting exiles over an open fire is part of the Dews' plan? eep! Run awaaaaay!!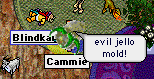 With the help of Bleign, I got stuffed jello (and the last laugh)!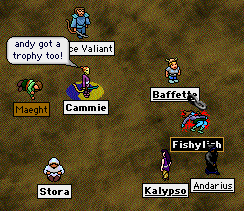 Andarius ended up with the rare and elusive Fish'Noth. Good score!
Til next time,
~ Cammie
Cammie's Story ~ MAP invades Noth!
Well recently I visited an area of Ash Island I hadn't seen before. We met this old guy who lives alone in a hut and doesn't seem to have a very bright outlook on life.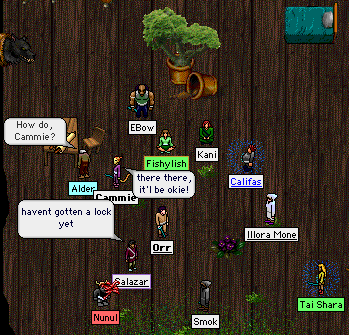 I gave him a hug and a pep talk and hopefully he feels better now!
Later we went to KI Cove (the real one. :D) Poor Sullin was lured to his fiery doom by an evil owl!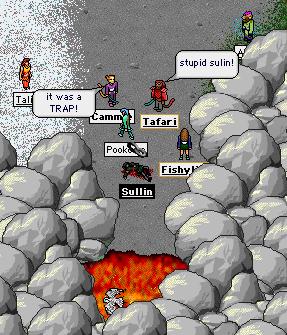 I guess ya gotta expect this kind of thing when you hunt with folks from TRAP. ;)
Speaking of TRAP, I took a tour of their clan house for an impromptu Puddleby Cribs. The Doorilla was quite imposing, despite his apparent tendency to drink on the job!
Finally, here are a few scenes from my and BKC's home decorating process:
Our own doorman (who has since found some friends!)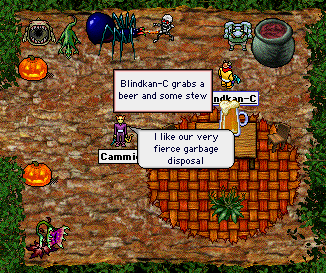 The fierce trashcan gets an upgrade. :D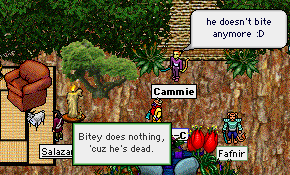 Showing off our spread!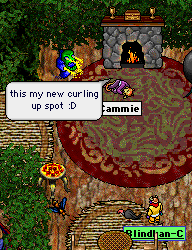 The fireplace is a favorite addition of mine. =)
Our newest pet. Think I'll call him "Skully."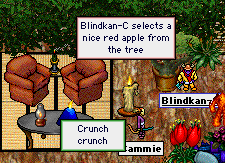 How many exiles have an organic farm in their home?
I will be featuring a full spread of our home in Puddleby Cribs in the not-too-distant future. Readers, you will not be disappointed. :D
Til next time,
~ Cammie
Cammie's Story ~ Traps, home decorating, and more!
Cammie: La la la... bored in town... oh hey, where are those guys going? ... cove, yay!... follow follow follow...
Thus began my first visit to Metzetli Island. :D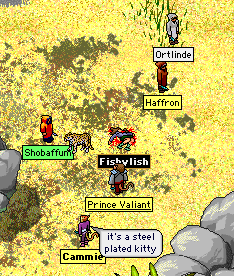 If these are kittens, I don't wanna meet their mama any time soon!
Flaming pile of GCP! Seriously, who
hasn't
wished they could do that?
I knew Metz was dangerous, but I had no idea how lush and beautiful it is!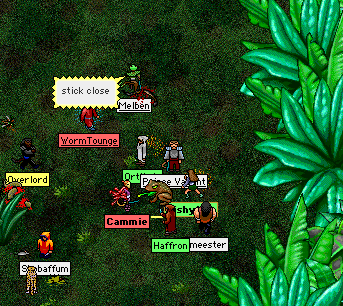 As soon as I saw these toad things, I knew I had to take one home!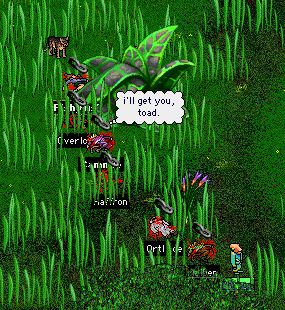 I'm not giving up that easily!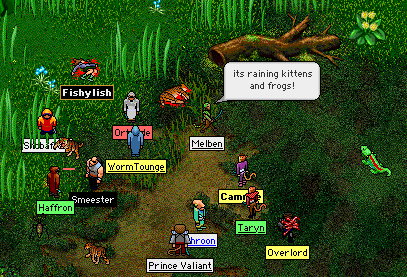 O noes, it's the end times!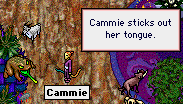 Victory! Think I'll call him "Toady."
Tanks for the fun and unexpected adventure! Hope I didn't cause too much trouble. :D
Til next time,
~ Cammie
Cammie's Story ~ Wait, you mean this isn't KI?!